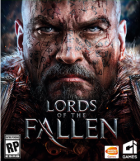 Lords of the Fallen is an action role-playing game developed by CI Games in concert with Deck13 Interactive which was published by Square Enix and Bandai Namco Games for the PlayStation 4, Xbox One, and Windows PC in the October 2014.
Lords of the Fallen is a brutal action RPG in similar vein to the popular Dark Souls series, where the game's difficulty and fearsome combat is a focal point of its appeal. The Demonic Rhogar army is re-emerging from its dark realm. Harkyn, a convicted criminal rejected by society is the world's last hope for salvation.
Lords of the Fallen Brainwaves
9th July, 0 replies

Lords of the Fallen, a brand new fantasy RPG IP which has been likened to the Dark Souls franchise by...

18th June, 0 replies

They say that imitation is the sincerest form of flattery and if that's true then Dark Souls should be...

26th April, 0 replies

CI Games have told IGN that: "We're working very hard right now to deliver PS4 and Xbox One in 1080p...
Share Lords of the Fallen with others