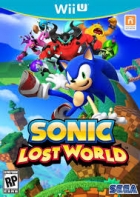 Sonic Lost World is an action-adventure platformer game developed by Sonic Team (Wii U) and Dimps (Nintendo 3DS), and was published by Sega in Japan and North America and Nintendo in Europe. It is the latest entry in the Sonic the Hedgehog franchise, with Sonic trying once again to stop his archnemesis' nefarious plot.
In his latest plot to defeat Sonic and rule the world, Dr. Eggman has harnessed the power of six menacing creatures known as the Deadly Six. However, when the Deadly Six rise up against their new master, Sonic must unite with his arch nemesis Eggman and explore the mystical Lost Hex in order to take them on head-to-head.
Sonic Lost World Brainwaves
12th October, 0 replies

Sonic has had quite the tumultuous past. The magic of the first three games on the SEGA Genesis, as well...

30th September, 1 replies

Trick or treat? This October looks to have a lot of treats as we continue rolling along to the holiday...
Share Sonic Lost World with others