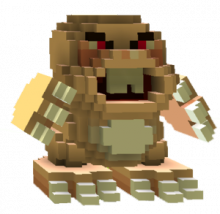 Biters are a type of hostile mobs that will spawn in packs of two or more. Biters are medium sized creatures that share their appearance with moles but Biters have lighter fur, red eyes with black eyebrows and are bigger in size. They also have a larger mouth with huge beaver-like teeth. One tooth seems to be chipped.
The Biter will wander around until it spots an enemy. It will then raise its claws and charge at the target and proceed to hack and slash until the biter or his foe is vanquished or until the distance between it and it's chaser becomes too large.
Biters can be tamed with Pancakes.