Snow Runners are a type of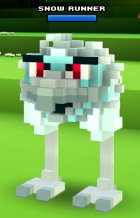 Mob. They are a subspecies and the Snowlands variation of the Plain Runner. Snow runners will wander around until they notice an enemy. They will then charge at their target swinging their beak wildly destroying chunks of terrain on their way.
They are tamed using a White Chocolate Bar.
They are rideable pets that attack in melee range.