Titanfall - Standard Edition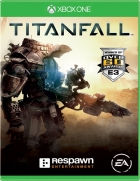 The standard edition of Titanfall will only give the basic game and no other extras.
Share Standard Edition with others
Do you want to earn money creating pages just like this? Gamewise is currently looking for writers, find out more here.
Titanfall Brainwaves
6th May, 0 replies

Electronic Arts has stated that Titanfall 2 won't be released until the company's next fiscal year. The...

8th April, 3 replies

I've been playing a lot of Titanfall lately, for a myriad of reasons. 1. I didn't own a machine capable...

9th January, 0 replies

Even gamers who don't enjoy modern shooters must admit that 2014 was a genuinely good year for the shooter...