Titanfall is a first-person shooter that combines the familiarty of other FPS games with vehicular-based combat that involves mechs known as Titans. It is a game that is multiplayer only, but will include single-player elements, such as cutscenes and actual objectives given to the players.
Multiplayer Matches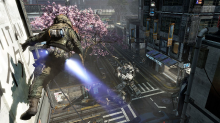 When matches begin, you are in control of a Pilot, who is your standard multiplayer character. They can equip weapons like any of FPS game, but they are also equipped with jetpacks for extra mobility. These jetpacks allow the player to sprint, double jump and even run on walls.
Once enough time passes near the beginning of a match, the Titan will be available for use. These large mechs can be driven by the player and come equipped with their own weapons. While they have a large degree of mobility, the use of such maneuvers like the wall-run and double jump are restricted to when playing as a Pilot. If the Titan's health is running low, the player can eject from it.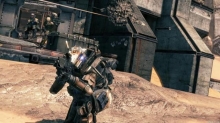 In addition to other player characters in matches, there will also be A.I. controlled characters called Marvins. These robots are described as the "laborers of the universe," but using the Data Knife on them will hack them to fight for your side.
Game Modes
Only two game modes have been revealed for Titanfall, which are Hardpoint and Attrition.
Hardpoint - Three points on the map that must be captured by a team to earn points
Attrition - Similar to Team Deathmatch in other games, where the objective is to eliminate the opposing team
Factions
The Interstellar Manufacturing Corporation (IMC)
IMC is in it for profit, and they will use force to ensure that their goals are met. With an infrastructure based upon Titan manufacturing materials, planetary survey technology and map database rights, they take on the Frontier to exploit all it has to offer.
The Militia
The nemesis of IMC, The Militia includes those that believe that their best interests are not being seen to. The Militia is outfitted with those wishing to battle against the newcomers that want to uproot their home of its resources. All types have joined in the Militia, from bandits all the way to homesteaders, and they are ready to fight for their home.