Garden Warfare is a third person multiplayer shooter. Players take on the role of either one of the many Plants or Zombies included in the game, each of which has its own unique skill-set and strengths/weaknesses, and then engage in combat against the opposing team.
Cooperative Multiplayer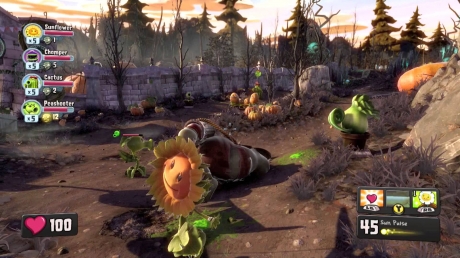 The cooperative multiplayer campaign offers a unique take on the tower defence concept established in previous entries in the Plants vs. Zombies series. Players are able to actually take control of, and play as, the Plants that are used to defend their garden against the Zombie waves from a third-person perspective.
This part of the game is essentially similar to the mainline series, but played out as a 3D shooter. Waves of increasingly difficult-to-repel Zombies attack the player's defences, culminating in boss battles.
The cooperative campaign mode supports up to four players and several different Plant classes to choose from. The Xbox One version of the game also supports split-screen offline co-op.
Competitive Multiplayer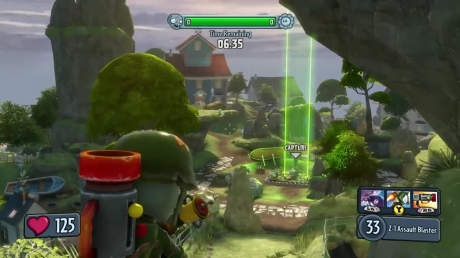 The second main mode found in Garden Warfare is competitive multiplayer. This plays similarly to multiplayer modes found in most modern shooter franchises, like Battlefield or Halo, but puts a unique Plants vs. Zombie twist on proceedings.
Players get to choose whether they fight as a Zombie or a Plant each round in 24 player competitive multiplayer (12 vs 12). Again, there are a variety of different classes to choose from (see the Classes section for detail), with the added addition of Zombie classes not included in cooperative multiplayer. There are also set to be multiple different maps and game modes to select from, including Team Vanquish, which is the game's spin on the classic Team Deathmatch.
One game mode revealed thus far is called Gardens and Tombstones, which is similar to Battlefield's Conquest mode. The zombies are tasked with taking over the gardens, turning them into a graveyard, after which they will have to take over the next one. This culminates in a final objective, which hasn't been revealed yet, but looks to be a final base that's on an island of its own, where the zombies must launch themselves to.
Classes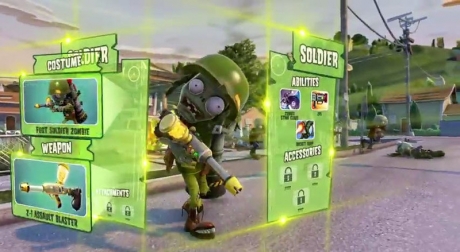 Each faction (Plants and Zombies) has access to four different classes, which are based on the strengths/weaknesses and abilities the respective Plants or Zombies have in the original tower defence game. In addition to a basic ability all classes have, they also have access to three different special abilities that need to recharge after using them.
Briefly, the classes found in the game are as follows:
Plants
Zombies
You will be able to personalise and customise each different class as you progress through the game with different costumes, weapons, abilities and accessories.
Boss Mode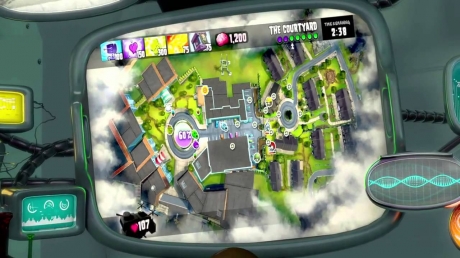 The third mode found in Garden Warfare is exclusive to the Xbox One and allows you to play from the point of view of a battlefield commander, launching waves of Zombies at defending Plants and use special abilities, such as area-of-effect Zombombs.
Boss Mode also supports Kinect and SmartGlass functionality, so you can issue commands via touch (SmartGlass) or voice and gestures (Kinect).