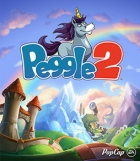 Peggle 2 is the latest entry in the popular Peggle series of casual puzzle games developed by PopCap Games and published by Electronic Arts for Xbox One (timed exclusive) and other platforms yet to be announced.
Peggle 2 challenges players to similar peg-busting gameplay of the original Peggle, but adds new levels, features, power-ups, multiplayer modes, Peggle Masters, and motion controls.
Peggle 2 Brainwaves
30th August, 0 replies

Peggle 2, the sequel to the award winning Peggle, will finally be making its way to the PS4, PopCap have...

2nd January, 0 replies

Puzzle games tend to attract incredible devotion from those who like to push their brains and loathing...

4th September, 1 replies

The Xbox One's release date has been set for November 22nd in 13 countries. After a long wait as gamers...
Share Peggle 2 with others