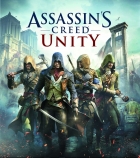 Assassin's Creed: Unity is an action-adventure game developed by Ubisoft Montreal and published by Ubisoft on Microsoft Windows, PlayStation 4, and Xbox One in November 2014. As the seventh game in the Assassin's Creed series, the game takes place in Paris during the French Revolution.
Arno Dorian, the game's main character, is a young boy with an assassin father. After his father is killed, the young boy is adopted into a new family. Arno quickly learns that his foster parents are part of the Templar Order within Paris. After his foster father is killed, Arno sets out to find the one responsible. He quickly runs into the Brotherhood of Assassins, where he joins the ranks to complete his mission.
Assassin's Creed: Unity Brainwaves
5th May, 0 replies

Microsoft has announced this week's Deals with Gold for Xbox Live Gold members. There are two games on...

12th January, 1 replies

Like realising that your blind date is Sarah Jessica Parker or Kevin Spacey when every other participant...

6th January, 2 replies

Brief App Description Enhance your Assassin's Creed Unity experience by taking Revolutionary Paris...
Share Assassin's Creed: Unity with others