Donkey Kong Country: Tropical Freeze is a side-scrolling platformer that has many things in common with the rest of the Donkey Kong Country series. Players still mainly control Donkey Kong, with a helper on his back, although this game introduces a few new helpers.
General Gameplay
The player controls Donkey Kong and guides him to the end of the level to complete a stage. Donkey Kong can jump on enemies, pound on the ground and also has an offensive roll maneuver. Barrels are available that will provide the aid of a second Kong who rides on Donkey's back and grants helpful abilities. The player can choose between Diddy, Dixie or Cranky Kong as the second character, each with unique abilities.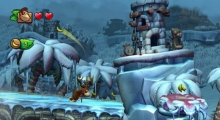 Donkey Kong will now be able to pull objects out of the ground, a mechanic that was absent from the previous games. This has been seen being used to pull up roots and open passages in the trailers. Donkey Kong will also be able to pick up stunned enemies and other objects and throw them.
Swimming sections return from previous games with the addition of now being able to attack while underwater. The Mine Kart and Rocket Barrel levels also return, where the player must successfully guide the Kongs through treacherous terrain without hitting obstacles.
New Features
New camera angles will be employed during certain portions of the side scroller to add new depth and challenge to levels. These especially come into play when Donkey Kong is traversing mazes of floating barrel cannons.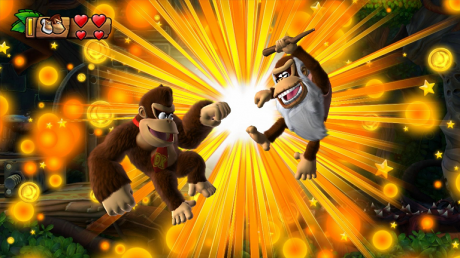 Donkey Kong and his fellow Kong can perform a Kong-POW move which destroys all of the enemies on the screen and turns them into items. The item they're replaced with is dependent upon which Kong is partnered with Donkey. With Diddy enemies are turned into life balloons, with Dixie they become golden hearts and with Cranky they become banana coins.
Time Attack Mode
Returning from the first game is the Time Attack challenge, where the player must try to finish a level as fast as possible. The player is awarded a shiny gold, gold, silver or bronze medal depending on how quickly they complete a level or defeat a boss. This feature is now enhanced further by online leaderboards where players can view video replays of top ranked players.
Playable Kongs
Once again, Donkey Kong will be accompanied by other Kongs on his journey, although they ride along on Donkey's back in single player, but a second player can control them with another controller. Diddy Kong returns and can be used to cross large gaps thanks to his jetpack. He remains true to his gameplay from DKCR.
Dixie Kong will be able to use her hair to levitate for a short time, expanding the locations that are reachable by jumping. In the Co-op mode she can even jump on Donkey Kong's back and use her ability to improve his jump. Cranky Kong makes his playable debut in this game. He can bounce along dangerous areas such as spike-filled pits using his cane.
Collectibles
There are several collectible items that make a return from the original game. Collecting 100 bananas earns an extra life and banana coins are used to purchase items from Funky Kong's shop.
To fully complete a level, the four K-O-N-G letters and hidden Puzzle Pieces must be obtained. Collecting the K-O-N-G letters unlocks hidden stages in the game and finding Puzzle Pieces unlocks in-game art.
Funky's Fly'n'Buy Shop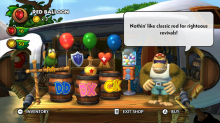 Since Cranky is now a playable character, Funky Kong returns from previous games to be the shopkeeper in Cranky's absence. He will sell various items to the player, such as extra lives, extra hearts and even figurines of characters in the game.