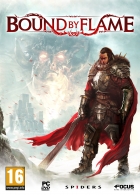 Bound By Flame is a role-playing game developed by Spiders and released on Microsoft Windows, PlayStation 3, PlayStation 4, Xbox 360. Bound by Flame is a heroic fantasy RPG that has you playing as a mercenary possessed by a demon in flames. In the grasp of the demon, you must choose between the demonic power within you, and your humanity. Should you choose the latter, you must repel the demonic influence and develop truly heroic skills. As dangers and enemies close down on you, always more fearsome and terrifying, you will be tempted to yield a bit more of your soul to the demon that possesses you in order to gain more power… and as the demon gains more of your soul, your physical transformation becomes more obvious.
Bound By Flame Brainwaves
11th April, 0 replies

Bound by Flame's latest trailer shows off some of the upcoming hack 'n' slash title's RPG elements. You'll...

14th March, 0 replies

Bound by Flame, the upcoming RPG produced by Spider Studios, has been announced for release on May 9th...
Share Bound By Flame with others