Ratchet & Clank: Into the Nexus, like its predecessors, is an action-adventure title that focuses on platforming and gunplay. Ratchet and Clank travel from planet to planet to fulfill their objectives, meeting enemies along the way and shooting them with various guns.
As players go around in the various locales, enemies and destroyed objects will drop bolts. These bolts can be used to purchase new weapons as they come available, as well as sometimes other things, such as gadgets. The game will also have a RPG-like element, where they will gain experience for killing enemies and once they have, they "level up" and gain more health.
Gravity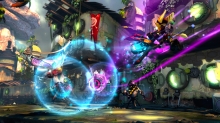 One of the new things being introduced and focused on in the game is gravity, with Ratchet utlizing a new gadget called the Grav-Tether. Throughout the game, Ratchet and Clank will find targets that they can use the Grav-Tether to connect a gravity field to traverse various terrains.
Netherverses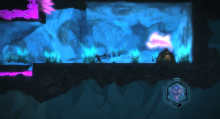 Periodically, Ratchet and Clank will happen upon barriers that impede their progress. It is at these points that Clank can go into Netherverses, which are 2D platform areas, where the objective is for Clank to guide a Nether creature back into the real world.
Once the creature is brought back into the real world, it will become unstable and destroy the barrier. The special thing about these areas is that Clank has complete control of the gravity, allowing him to go on the ceiling and walls, as well as change his direction in mid-air.
Combat Arenas
Another feature returning to Into the Nexus is combat arenas. In past games, Ratchet and Clank were able to participate in arena battles that pitted them against waves of enemies. Sometimes, those battles would have special rules, such as having to clear all waves without getting hit or Ratchet's weapons randomly changing every 10 seconds.
Challenge Mode
Challenge Mode is a mode that is selectable after finishing the main game, where the player will be able to go through the game again with stronger enemies. Normally, players will be able to keep the weapons, bolts, health, armor and weapon upgrades, although gadgets usually aren't kept because of story progression. Previous games also allowed more powerful versions of weapons to be bought, that allowed the player to continue leveling them up to another plateau.