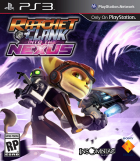 Ratchet & Clank: Into the Nexus is the next installment in the Ratchet & Clank series developed by Insomniac Games for the PlayStation 3. The game is a return to a more 'traditional' series experience and sees the duo exploring the mysterious planet Yerek. It will be the epilogue of the Ratchet & Clank Future series, which started with Tools of Destruction.
The game starts out as Ratchet and Clank assisting the Galactic Authorites to bring the two new villains Vendra and Neftin Prog to a prison. After a horrible accident, our hereos are left stranded on Planet Yerek; a spooky and odd world on the reaches of the galaxy. Ratchet and Clank must then track the twins down and stop them. However, our heroes are faced with a new even bigger problem. One that decides the fate of the universe.
Ratchet & Clank: Into the Nexus Brainwaves
14th November, 3 replies

Insomniac Games is asking for support for 20 year old intern Ana Kessel, who was badly injured in a car...

1st November, 1 replies

Another platformer series is taking a run at the endless runner genre. Insomniac Games has announced...

16th October, 0 replies

Insomniac Games has added a sweetener for those who purchase a physical copy of Ratchet & Clank: Into...
Share Ratchet & Clank: Into the Nexus with others
Ratchet & Clank: Into the Nexus