Payday 2, like its predecessor Payday: The Heist, is a first-person squad-based shooter that focuses on conducting robberies and heists. The game is split up into individual heists, which can be further split up into days. Payday 2 will feature more heists, with a total of 30 available, as well as more guns and improved gameplay. Heists can be performed with four human players online, or with one human and three AI players offline.
Crime.net
Crime.net is the new mission selection for Payday 2. The first game just offered a list of the various heists, but with Payday 2, Crime.net functions as a dynamic contract database. All of the heists are randomly generated, with each one varying in length, objectives, and even payout. The heists will only be available for a period of time, before they will be removed and replaced by another one.
Professions
In the first game, players would pick one of the skill trees and be stuck with it until they chose a different one or reached a reputation level cap. In Payday 2, there are different skill trees, but they function differently. When players gain a reputation level, they are given a skill point that you can place in one of four skill trees.
Players are restricted to just one skill tree, as they can place skill points freely in all of the trees if they want. Each Profession has six tiers of skills, with each tier having three skills each (totaling up to 18 skills in each tree). As players spend more skill points in a single tree, they will unlock more tiers and thus, more skills.
Shout
The Shout mechanic returns to Payday 2 and functions similar to the first game. It is performed by pressing the interaction button and has a variety of uses. For example, it can be used to call out to a teammate, but it can also be used to order civilians to stay on the ground. Likewise, it is used to intimidate non-special enemies, to the point that they can become hostages, as well as point out special enemies to the group.
Hostages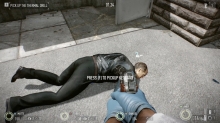 The hostage mechanic also returns from Payday: The Heist. A hostage is a civilian that has been subdued with cable ties, or it can be a non-special enemy that has been intimidated using the the Mastermind's Dominator skill. They are taken hostage to remove them from being a threat, as civilians can use their cell phones to call the police. Hostages are also a means of getting back a crew member that has been put into custody by law enforcement.
A crew member is taken into custody when they have been downed and not revived in time. This causes Bain to start negotiations with police to get the crew member back, with the base time being 5 seconds. For every civilian that person has killed, 10 seconds is added onto the above time.
Once the negotiations have taken place, a hostage must be exchanged in place of your captured crew member. If the players haven't gotten one yet, they will need to get a hostage, either a civilian or an intimidated law enforcer. When a hostage has been taken, they will be highlighted in orange. Note that civilians can be retaken as a hostage again, but law enforcers canot; special enemies and gangsters cannot be taken as hostages at all.
Customization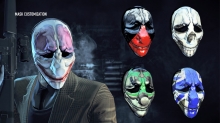 Customization is a big part of the game in Payday 2. Players will be able to customize their masks, which is possible due to getting materials and colors as rewards from finishing heists. Also, players will be able to customize their weapons with different modifications, such as optics and suppressors, as well as some cosmetic changes.