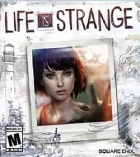 Life is Strange is an episodic adventure game developed by DONTNOD Entertainment and released on Microsoft Windows, PlayStation 3, PlayStation 4, Xbox 360, and Xbox One. The game will be released in episodic chapters, with choices made in previous chapters changing the actions in later ones.
Max Caulfield, a senior student, returns to Arcadia Bay, a fictional town set in the state of Oregon. When she returns home, she finds out that Rachel Amber, a fellow student, as disappeared mysteriously. Reuniting with her friend, Chloe, they set out to find out what happened to Rachel and also discover Max has the ability to rewind time.
Life is Strange Brainwaves
19th May, 0 replies

Chaos Theory, the third episode of Life is Strange, will be released tomorrow, May 19. You can view the...

17th April, 2 replies

Life Is Strange: Episode 3 - Chaos Theory will launch in May, the game's official Twitter account has...

20th March, 1 replies

Dontnod has released the first batch of screenshots and the debut trailer for episode 2 of its acclaimed...
Share Life is Strange with others