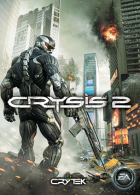 Crysis is a first-person shooter developed by Crytek and published by Electronic Arts for PS3, Xbox 360 and PC. It is the third game in the Crysis franchise, and takes place in a ruined New York city.
Like the other games in the series, it takes place in a futuristic setting and allows the player to play as a technologically-enhanced super-soldier who uses his Nanosuit to gain an advantage over his enemies.
Crysis 2 Brainwaves
6th October, 0 replies

Crytek (Crysis, Far Cry and Ryse: Son of Rome), have admitted that it's becoming more and more difficult...

15th April, 1 replies

When it was announced that GameSpy would be shutting down its servers on multiple games, the question...

14th August, 2 replies

For all the bad things gamers say about EA, it seems there are some goodly souls working there, for the...
Share Crysis 2 with others