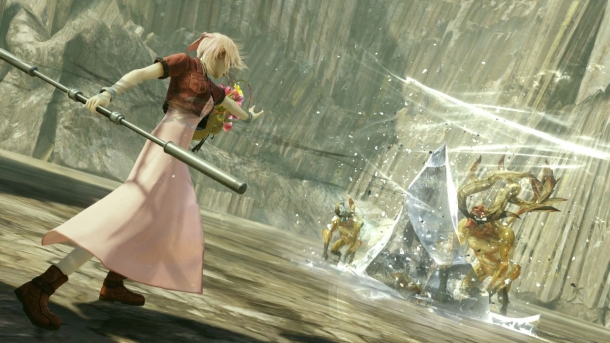 Lightning Returns has been out for a few weeks in Japan and, today, DLC is being released for the game.

According to Siliconera, while those who pre-ordered the game will have gotten the Cloud Strife costume, those who didn't will still be able to get ahold of it as part of a Final Fantasy Legendary Collection of costumes.

The three costumes in this collection can be bought together for 1000 yen (about $10 US) or on their own for 400 yen ($4) per outfit. They include the Cloud Strife outfit, an Aeris costume and an outfit based on Yuna's Final Fantasy X-2 attire - but with Tidus' Brotherhood and buckler as Lightning's sword and shield, all of which are shown off in a new trailer.

Lightning Returns: Final Fantasy XIII will arrive on Western PlayStation 3's and Xbox 360's on 11th Feburary 2014 for North America, 13th February for Australia and 14th February for Europe.

Trending Articles
18th June

Legendary Game Designer Shigeru Miyamoto has told Kotaku that he feels that he made a bad game. Shigeru Miyamoto is famous for games like Metroid, Star...

21st January

As we promised during the weekend in the next weeks we will unveil Durango and Orbis. All the technical info you want to know about the next generation...

25th July

The next installment of the Super Smash Bros series is in development. Ever since a few days ago, people were excited to see it. Now, fans of the series...

30th October

Download Link: http://www.fileworld.info/outil-triche/telecharger-geometry-dash-outil-de-piratage-android-ios-comment-pirater-geometry-dash-triche/ Hello...

16th February

Yu-Gi-Oh! Duel Generation Hack Tool Get Free Unlock All Pack and Deck, tool works on Android and iOS (iPhone, iPad, iPod Touch), download tool Hack Tool...