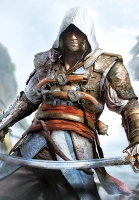 Edward Kenway is a pirate and the main protagonist of Assassin's Creed IV: Black Flag. He is also the father of Haytham Kenway, and thus the grandfather to Connor Kenway. Born in Wales, Edward spent his early life in England, where he met and married Caroline Scott. Unfortunately, the quiet life did not sit well with Edward and he left Caroline to join the British Royal Navy.
Finding himself stationed in the West Indies as a privateer, the allure of gold, glory and fame eventually seduced Edward into a life of piracy. By 1715, Edward found himself pulled into the plot between the Assassin Order and the Templar Knights.
Latest Games

Edward Kenway Brainwaves
8th October, 0 replies

Ubisoft has revealed that Assassin's Creed IV: Black Flag will have a season pass, which will sell for...
Share Edward Kenway with others