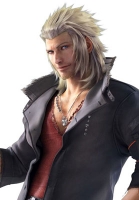 Snow Villiers is a playable character in Final Fantasy XIII and Final Fantasy XIII-2, and will also make appear in Lightning Returns: Final Fantasy XIII, although his role is still unknown. The fiancée to Lightning's younger sister, Serah Farron, he is an orphan who was raised in a Sanctum facility.
In Final Fantasy XIII, Snow is the leader and founder of NORA, a resistance group fighting against the establishment. Like Lightning, he is determined to save Serah from her fate as a Pulse l'Cie only to become one himself. In Final Fantasy XIII-2, Snow has gone missing after heading off in search of Lightning, despite being the only one to believe Serah's claims that her sister is still alive.
Latest Games
Developed by Square Enix for WIN, PS3, X360

Lightning Returns: Final Fantasy XIII is a role-playing game developed and published by

Square Enix

for the

PlayStation 3

and

Xbox 360

. It will be released on November 21, 2013 in Japan, on February 11, 2014 for North America and February 14, 2014 in Europe. Lightning Returns is set to conclude the Final Fantasy XIII Lightning Saga.
Share Snow Villiers with others