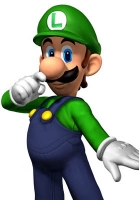 Luigi is Mario's younger brother and one of the characters featured in the Mario series of games. He is depicted as taller and thinner than Mario, as well as having a green shirt and blue overalls. His personality is usually shown as being cowardly, although he has also shown braveness.
Luigi's first appearance was in the Mario Bros. arcade game, where he was simply a palette swap of Mario, with the same abilities and everything. It wasn't until Super Mario Bros: The Lost Levels, where Luigi was given his own abilities. He could jump higher and farther than Mario, but he had less traction, meaning he would slide around more.
Luigi Brainwaves
3rd November, 0 replies

Nintendo Life has posted an interesting interview with Rocky Morton, the director of the infamous 1993...

17th September, 1 replies

Because of a glitch discovered yesterday in the Mario & Luigi: Dream Team Community on Miiverse, Nintendo...

30th January, 1 replies

We may soon start to see Mario, Luigi, Link, and many other iconic Nintendo characters appearing outside...