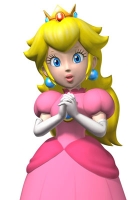 Princess Peach is a character from the Mario series of games, where she is usually being kidnapped by Bowser and subsequently, rescued by Mario. She is the damsel-in-distress and resides in the Mushroom Kingdom as its ruler, where she has many Toads under her reign.
She has appeared in almost every game, with her first appearance being Super Mario Bros. in 1985. Sometimes, she does more and actually supports Mario in the background, and she is usually playable in spinoff titles, as well as starring in her own game, Super Princess Peach.
Princess Peach Brainwaves
29th August, 1 replies

Today Nintendo announced that each Amiibo figure will cost $13, and that the first wave of Amiibos will...

26th August, 0 replies

Nintendo has been quiet on the Wii U's newest hit, Mario Kart 8, ever since announcing the Mercedes...

15th April, 0 replies

Nintendo understands the value of their mascots, and so themed Nintendo items have been a token of the...
Share Princess Peach with others