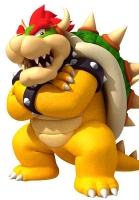 Bowser is the main antagonist in the Mario series of games, usually kidnapping Princess Peach and trying to take over the Mushroom Kingdom. His first appearance was in Super Mario Bros. in 1985, and he has been in almost every Mario game since then, where he is usually thwarted by the moustached plumber, Mario, himself.
In his original appearance, he was shown to breathe fire and throw hammers. He kept his fire-breathing ability throughout the rest of the games, but loss the hammer throwing. He commands the Koopa Troop, meaning he has an entire army at his disposal who follow his every move. He has also been shown to have incredible strength.
Bowser Brainwaves
11th November, 1 replies

Nintendo have been pushing their Amiibo line hard as of late, with the number of games supporting them...

26th August, 0 replies

Nintendo has been quiet on the Wii U's newest hit, Mario Kart 8, ever since announcing the Mercedes...

11th June, 1 replies

Nintendo have shown off a new feature coming to the newly-announced Mario Party 10 that allows you to...