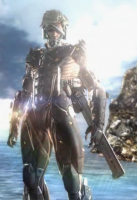 Raiden, whose real name is Jack, made his first appearance as the hero of Metal Gear Solid 2: Sons of Liberty, as a part of the FOXHOUND special forces. Raiden reappeared as a supporting character in Metal Gear Solid 4: Guns of the Patriots and will be the protagonist of Metal Gear Rising: Revengeance. Raiden is initially shown as a white-haired adult who wears a protective black-and-blue suit for his missions known as a Skull Suit.
In Metal Gear Solid 4: Guns of the Patriots, however, Raiden has a cybernetic exoskeleton and has had his limbs replaced with prosthetics; he has also had his blood replaced with a military substitute called White Blood, which makes it tough to treat him.
Raiden (MGS) Brainwaves
24th April, 1 replies

When originally released, Metal Gear Solid V: Ground Zeroes was packaged with platform-specific content....

3rd April, 1 replies

Voice actor Reuben Langdon, best known for his voice work as Devil May Cry's Dante and Street Fighter's...
Share Raiden (MGS) with others