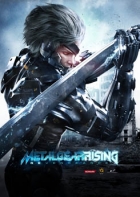 Metal Gear Rising: Revengeance is an action video game, developed by Platinum Games and produced by Kojima Productions for the PlayStation 3 and Xbox 360. It is the ninth game in the Metal Gear series, with a plot set four years after the events of Metal Gear Solid 4: Guns of the Patriots.
Revengeance follows the story of Raiden, who has become part of Maverick Security Consulting, Inc., a PMSC (Private Military Security Corporation) that has been tasked with the protection of Prime Minister N'Mani. When things go bad, Raiden tries to stop the incident from spiraling out of control and in the process discovers a plot that could plunge the entire world back into the War Economy that he and Solid Snake had fought so hard to end.
Metal Gear Rising: Revengeance Brainwaves
3rd April, 1 replies

Voice actor Reuben Langdon, best known for his voice work as Devil May Cry's Dante and Street Fighter's...

7th January, 0 replies

President and CEO of Platinum Games, Tatsuya Minami, has written about how much he feels 2014 will be...

15th December, 0 replies

If you're still waiting for that PC port of Metal Gear Rising: Revengeance, you're in luck. Word is that...
Share Metal Gear Rising: Revengeance with others
Metal Gear Rising: Revengeance