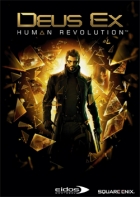 Deus Ex: Human Revolution is a neo-noir cyberpunk-themed stealth action role-playing video game developed by Eidos Montreal and published by Square Enix, which also produced the game's CGI sequences.
Released in August 2011, it is the third game in the Deus Ex series, and a prequel to the original game released in 2000. The Director's Cut exclusively for the Wii U is scheduled for release in 2013 and will address several issues from the original version (such as Boss Fights) while implementing new features.
Deus Ex: Human Revolution Brainwaves
28th March, 0 replies

Square Enix have filed a trademark for another Deus Ex game, titled "Deus Ex: Mankind Divided". Last...

18th October, 0 replies

Some things are just so stupid that the only worthwhile response is to allow one's palm to connect with...

18th October, 0 replies

Deus Ex: Human Revolution was a well received game both critically and at retail when it released back...
Share Deus Ex: Human Revolution with others
Deus Ex: Human Revolution