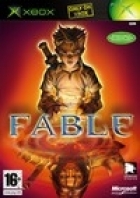 Fable is a role-playing game developed by Lionhead Studios and released on Microsoft Windows and Xbox. It was spearheaded by star developer Peter Molyneux and was a revolutionary RPG for its time. The game began with you in control of a young boy or girl and created a world around you that allowed you to grow up to become whatever type of "Hero" you wanted to be. You would slowly age to roughly 65 years old and over the course of that time, you could build a legacy by being either good or evil. As time passed, people would recognize you for your deeds. While there was a main story and clearly a game to play, how you formed your life didn't end there. You could also invest or buy shops around various villages, buy houses, marry and start family's as well, allowing you to inject as much of yourself into your avatar as possible.
To foster your ability to make all of these choices and leave such a legacy, a rather lighthearted world was created which was in stark contrast to the frequently dark RPG styles of the time. This allowed you to enjoy the positives of the world or see what it was that you were destroying by being either good or evil. While many mechanics have changed throughout the Fable Franchise the games unique charm and ability to partake not just in the story but the world have become the defining characteristics of the game. Originally released on September 14, 2004, it quickly garnered an Enhanced Edition called "Fable: The Lost Chapters" the following year, several sequels and a rerelease for the Xbox 360 called "Fable Anniversary" scheduled for holiday 2013.
Fable Brainwaves
5th September, 1 replies

Fable Anniversary, the remake of the original Fable which released 10 years ago, will be released on...

16th April, 0 replies

It has been announced that Ted Timmins, the Franchise Manager for the Fable series, has left Lionhead. Timmins...

27th February, 0 replies

Peter Molyneux, the original creator of Fable, has called Fable III a "trainwreck". While speaking to...