The cooperative story takes place chronologically after the single-player campaign and has some ties it, although players are not required to play them in that order. Players control ATLAS or P-Body as they navigate five sets of test chambers together, each with a fully functioning portal gun.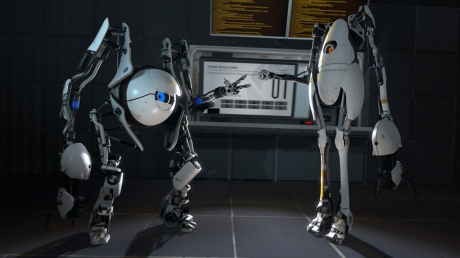 After completing a test chamber, the robots are disassembled and reassembled at the next chamber. Each set of puzzles focuses on a particular testing element or puzzle-solving technique.
In the first four sets, GLaDOS sends the robots outside the test systems of Aperture Laboratories to recover data disks. She destroys them and restores their memories to new bodies - which also happens when they die in a test chamber hazard. At first, GLaDOS is excited about her non-human test subjects, but later becomes dissatisfied because the two robots cannot truly die.
At the end of the story, the robots discover and gain entry to "the Vault", where humans are stored in stasis. GLaDOS congratulates the robots on locating the humans, whom she sees as new test subjects. She then violently disassembles the robots, telling them, "We still have a lot of work to do."