The player controls Chell from a first-person perspective while running and jumping to complete various puzzles. She is able to withstand large drops, but can be killed by falling in the toxic water of the facility, crushed to death, burnt to death, or shot to death by turrets.
The game is generally divided into a series of test chambers, though it also features other sections that are more exploratory.
The Goal
In the test chambers, each chamber has an exit door that must be reached, often requiring that certain conditions have been met such as having weighed down a large button with a Storage Cube. These puzzles require the use of the Aperture Science Handheld Portal Device, aka the portal gun.
New smaller features include the Edgeless Safety Cubes, which are frequently used to unlock doors, and Redirection Cubes, which redirect the flow of laser beams and usually power lifts and doors.
Portal Gun
The portal gun can shoot two portals, colored differently for identification, on any flat surface that can accept a portal. Once both portal ends are placed, the player can walk between them. Portal ends can be re positioned as often as necessary.
It's the only weapon you get in the game and you must use it to get around obstacles, such as walls that don't let you shoot portals at them, automated turrets that you have to knock over.
Momentum
A key feature of the game is that momentum is maintained when traveling through

portals. When portals are placed on non-parallel planes, this can create the effect of "flinging", allowing you to gain speed and distance that normal jumping and running could not generate. A leapfrogging effect can be used by placing portals in series during this flinging, gaining further momentum with each use.
As GLaDOS puts it, "In layman's terms: speedy thing goes in, speedy thing comes out".
Thermal Discouragement Beams
These are fixed position lasers that can be redirected by portals or Redirection Cubes to power objects and let the player advance.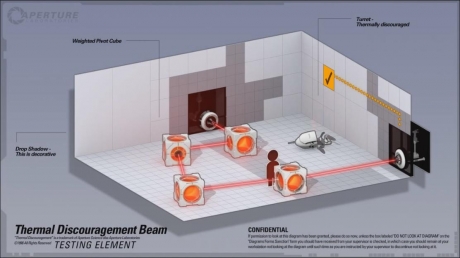 Excursion Funnels
These are similar to tractor beams that can be redirected by portals to move objects and/or the play to a destination.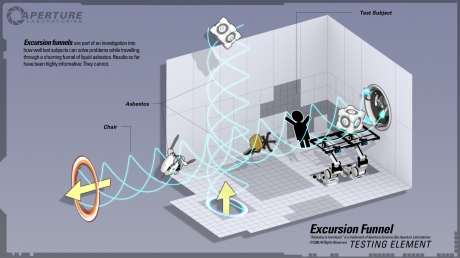 Hard Light Bridges
A translucent but solid walkway that the player can walk on, used to block attacks from turrets, or anytime when a hard flat surface is needed. They can be redirected with portals to reach certain areas and can even have gel stick to them to help the player advance.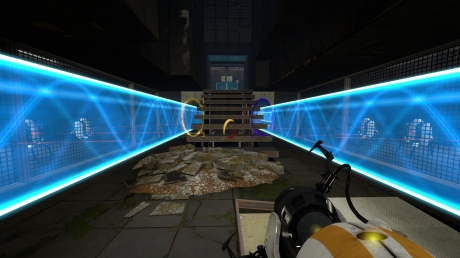 Aerial Faith Plates
Pressure-triggered pads that launch objects, and the player, in a particular direction with great force.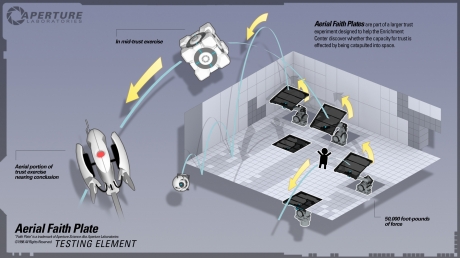 Gels
These paint-like gels can be used to impart certain properties to surfaces or objects coated with them. Gels are dispensed from pipes and can be transported through portals. Some surfaces, such as grilles, cannot be coated with a gel and water can block or wash away gels, returning the surface or object to its normal state.
These gels were created by the team from the Independent Games Festival-winning DigiPen student project Tag: The Power of Paint.
Propulsion Gel
Propulsion Gel is a kind of oil slick ejected from a dispenser that can be spread across surfaces via portals to enable fast running. The gel was first marketed as a diet aid, that "increased the velocity of any food that followed it through the digestive tract, leaving the body no time to absorb calories." Unfortunately, the product was pulled from store shelves when it was discovered that digestion plays an important part in the eating process.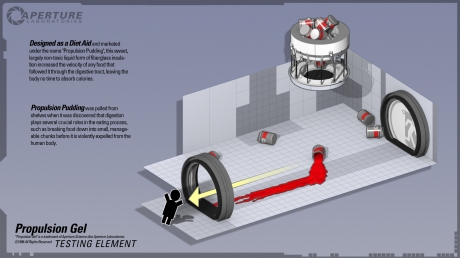 Repulsion Gel
Repulsion Gel is a rubber-like substance ejected from a dispenser that can be spread across surfaces via portals to create a trampoline effect upon surface contact. Apparently, the gel was also marketed as a diet aid, as it "caused subsequently-ingested food items to bounce off the lining of the dieter's stomach and out his or her mouth," i.e. throwing up. For obvious reasons, this was pulled from store shelves.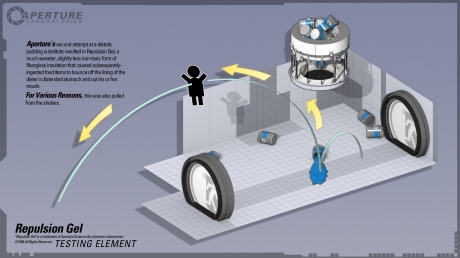 Conversion Gel
Conversion Gel is a rubber-like substance made of of moon rocks that is ejected from a dispenser that can be spread across surfaces via portals that allows any surface coated with the gel portal-able.