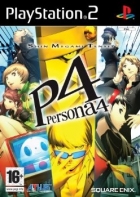 Shin Megami Tensei: Persona 4 is a role-playing game developed by Atlus for the PlayStation 2. It was announced on July 6, 2008 and released on December 10, 2008. The North American and European releases came bundled with a bonus CD containing music from the game.
Shin Megami Tensei: Persona 4 Brainwaves
20th December, 0 replies

A new trailer for Persona Q: Shadow of the Labyrinth has been released on the official Atlus YouTube...

24th November, 3 replies

Atlus today had an early Christmas present for Japanese Persona fans: they announced four separate Persona...

14th August, 0 replies

It's time to burn your dread, Atlus fans, because it seems that the company is intent on reaching their...
Share Shin Megami Tensei: Persona 4 with others
Shin Megami Tensei: Persona 4