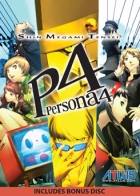 Shin Megami Tensei: Persona 4 is a role-playing game developed by Atlus and released on PlayStation 2. The fifth chronological installment in the Shin Megami Tensei: Persona series, it received an enhanced remake called Persona 4: Golden for the PlayStation Vita that offers a substantial amount of new features.
The player-named main protagonist is a high-school student who moved into the countryside from the city for a year. During his year-long stay, he becomes involved in investigating mysterious murders while harnessing the power of summoning Persona.
Shin Megami Tensei: Persona 4 Brainwaves
1st September, 1 replies

Today, at Sony's Pre-TGS conference, it was announced that Persona 5 will not only be coming to PS3...

29th June, 0 replies

Back in 2012, Atlus teamed up with Aksys to create Persona 4 Arena, a new fighting game that pits the...

20th December, 0 replies

A new trailer for Persona Q: Shadow of the Labyrinth has been released on the official Atlus YouTube...
Share Shin Megami Tensei: Persona 4 with others
Shin Megami Tensei: Persona 4