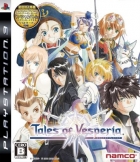 Tales of Vesperia is a real time Japanese RPG for PS3 and Xbox360.
Yuri, a former knight who has vowed to help the poor, pursues a strange thief who has stolen an important device. He later becomes princess Estellise's protector and faces much greater threat.
Tales of Vesperia Brainwaves
4th December, 0 replies

A new Tales of game will be announced next week, on December 12th during a live stream in Japan. This...
Share Tales of Vesperia with others