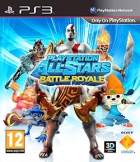 PlayStation All-Stars Battle Royale is an Action-Fighting game developed by SuperBot Entertainment for the Playstation 3 and Playstation Vita systems. It will be released on November 20, 2012, published by Sony Computer Entertainment.
Playstation All-Stars Battle Royale features characters from the deep history of the Playstation life. It has characters from first party games, such as Sackboy from LittleBigPlanet, as well as third party titles, such as Big Daddy from Bioshock.
PlayStation All-Stars Battle Royale Brainwaves
27th August, 0 replies

Sadly, August and the summer are both coming to a close, but all is not lost. The end of the month also...

3rd April, 1 replies

Voice actor Reuben Langdon, best known for his voice work as Devil May Cry's Dante and Street Fighter's...

9th August, 1 replies

The PlayStation All-Stars are back and this time, they're going mobile! Sony has announced PlayStation...
Share PlayStation All-Stars Battle Royale with others
PlayStation All-Stars Battle Royale