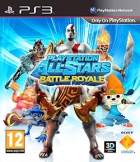 PlayStation All-Stars Battle Royale is an Action-Fighting game developed by SuperBot Entertainment for the Playstation 3 and Playstation Vita systems. It will be released on November 20, 2012, published by Sony Computer Entertainment.
Playstation All-Stars Battle Royale features characters from the deep history of the Playstation life. It has characters from first party games, such as Sackboy from LittleBigPlanet, as well as third party titles, such as Big Daddy from Bioshock.
PlayStation All-Stars Battle Royale Brainwaves
9th August, 0 replies

The PlayStation All-Stars are back and this time, they're going mobile! Sony has announced PlayStation...

15th April, 0 replies

Superbot Entertainment, the developers behind PlayStation All-Stars Battle Royale, have had a tough 2013....

23rd February, 4 replies

The Walking Dead The adventure game genre has been past its prime for quite some time now, and not since...
Share PlayStation All-Stars Battle Royale with others
PlayStation All-Stars Battle Royale