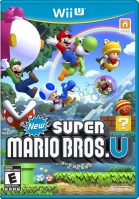 New Super Mario Bros. U is a 2D platformer developed by Nintendo EAD and will be a launch title for the Wii U. The game will be published by Nintendo and will be the fourth installment in the New Super Mario Bros. series.
In this title Bowser and the Koopalings invade Princess Peach's castle and throw Mario, Luigi and the Toads away using a giant mechanical arm. Mario and co. must now traverse this new land and rescue Peach once again. The basic gameplay of New Super Mario Bros. U is similar to previous iterations, but this time there are new ways to play that will take advantage of the Wii U GamePad.
New Super Mario Bros. U Brainwaves
17th April, 1 replies

Nintendo's eighth generation home console, the Wii U, has hit a new milestone in the US. The console...

23rd October, 0 replies

Nintendo of America announced a new Wii U bundle today. Dubbed the Mario & Luigi Deluxe Set, it includes...
Share New Super Mario Bros. U with others