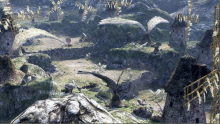 There was once a man who owned a stable.
The stable was famous for producing fine horses, and it was decided that the stable owner's liege's only son would be presented a white horse, the finest of all, on the occasion of his coming of age ceremony.
However, one day the stable owner heard that the liege's son desired a horse he saw in a distant land - a horse which could fly through the air. The stable owner, shaken by this, plucked the feathers from countless types of winged animals, attempting to fasten them to the back of the white horse, but he realized that no matter what he did, he would not be able to create a flying horse.
Then, a person's certain words fell on the crestfallen man's ears: "If You Wish to achieve what you desire, you must make an offering. The more the valuable thing offered, the greater the chance of achieving what you desire."
The stable owner did what the voice said. He offered as a Sacrifice the finest of all of his horses, the white horse. The white horse melted away, turning into white wax, which then bore feathers. Hardly daring to hope, the man attached the feathers to a horse... and, indeed, it soared across the sky.
Later, the liege's son fell to his death from the gifted flying horse, in an accident born of his own carelessness. The stable owner was blamed, and later executed, but in the years leading up to his execution, he spent his life raising white horses, sacrificing them, and creating beasts which could fly through the air, from his crops of feathers.