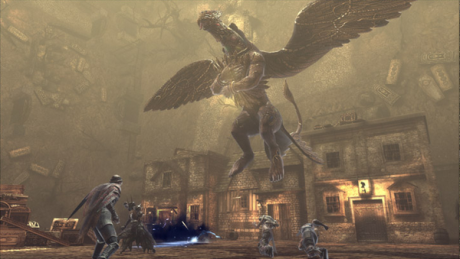 He was a Noble.
His lands were vast, and he lived in opulence, supported by heavy taxes exacted from those who lived in his dominion.
One day, he was presented with an offering from the people - a golden statue of a figure combining beast, bird, and man. His heart was swept away by the figure, and he felt an unnatural adoration for it.
The power of the unnatural love was such that it drove him to kill his wife for hiding the statue from him.
The years passed, and eventually the people rose up in rebellion, unable to further shoulder the burden of the noble's oppressive taxes. They swarmed around the noble's castle, and found him in his treasure vault.
By the time they found him, however, he was no longer human.
His love of gold had allowed the golden statue, which he loved without limit, to take over his body, transforming it into the statue's likeness.