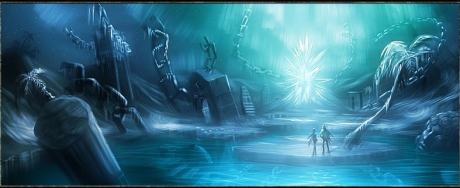 Once, a woman accidentally gained possession of a Philter that granted her a beauteous visage. Using this Philter, she became breathtakingly beautiful, and lived a life without want.
When she turned 100 the problems began. Despite her age, she maintained the countenance of a woman in her late teens and came to be reviled as a monster.
Unfortunately, at the same time her village was struck by a plague. The townsfolk, suspecting that she had brought the pestilence, captured her, shackled her, and decided to put her to death.
The woman pleaded: "I am not scared to die. Just, please, let me retain my beauty in death. "
Her pleas were heard. Her body was encased in ice. The ice grew slowly, becoming a beautiful lake of ice. In order to keep eternal her beauty, she gave up her humanity.