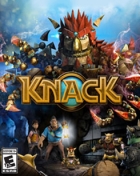 Knack is an action adventure platform game in development by SCE Japan Studio for exclusively for the PlayStation 4. Headed up by Spyro and Crash Bandicoot game designer, Mark Cerny, it will have cross-play potential with the PlayStation Vita. It has the distinction of being the first game officially announced for the PlayStation 4.
Knack revolves around a creature called Knack, who has the ability to attract and expel stones to himself, allowing him to rapidly grow or shrink as the situation demands. Humanity seeks to use him in their clash against the Goblins, but the Goblins seem to have their own agenda for Knack.
Knack Brainwaves
12th January, 0 replies

With the release of PS4, we get a flurry of some exclusives and ports to hold us over until the real...

7th November, 1 replies

With just a matter of days and weeks to go before the next generation consoles from both Sony and Microsoft...

30th October, 2 replies

Sony has unleashed a mammoth sized FAQ page on all things PlayStation 4, dubbed "PS4: The Ultimate FAQ",...