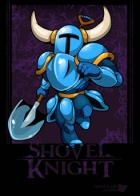 Shovel Knight is a platformer game with an 8 bit aesthetic, reminiscent of NES platformers, developerd by Yacht Club Games for Nintendo 3DS, Microsoft Windows, Mac OS and Wii U. You play as the Shovel Knight. Shovel Knight wants nothing but to defeat The Enchantress and save his beloved.
He wields the Shovel Blade, a weapon that the correct use of which has been lost in time. Shovel Knight upholds the code of Shovelry: slash mercilessly and dig tirelessly!
Shovel Knight Brainwaves
23rd January, 0 replies

While Mega Man has been slowly rotting in a shallow ditch somewhere under Capcom's headquarters for the...
Share Shovel Knight with others