Deadpool is a third-persion action hack and slash game where the player controls the titular Deadpool comic book character and anti-hero in his first solo video game outing. Deadpool is voiced by Nolan North and the story is written by comic book writer Daniel Way, so it's set to feature Deadpool's signature humour and fourth wall breaking.
Combos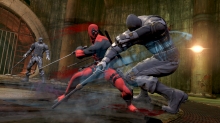 Gameplay in Deadpool revolves around combat, which is a mix of melee combat and shooting. These can be linked together to form combos, with new combos unlocking over the course of the game.
Certain attacks will dismember and decapitate Deadpool's opponents. Deadpool will also slowly fall apart as he takes damage. You'll be able to reattach any severed limbs, or simply wait for them to regrow.
Weapons
Deadpool has access to a wide variety of weaponry, from hammers and swords to all sorts of guns. As with the combo system, you'll acquire more weapons over the course of the game.