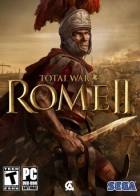 Total War: Rome II is a turn-based strategy game developed by The Creative Assembly for Microsoft Windows. It is the latest entry in the Total War series and the direct successor to Rome: Total War. Unlike its predecessor, Rome II focuses on many of the cultures of the era rather than purely the Roman Republic and its politics.
Set in classical antiquity, Total War: Rome II's grand campaign begins in 272 BC and lasts for 300 years, though players can continue past this as there is no timed victory conditions in Rome II.
Total War: Rome II Brainwaves
29th August, 0 replies

Total War: Rome II will be getting a new expansion, called Emperor Edition, Creative Assembly has announced...

2nd July, 0 replies

This year's Game Critics Awards have come out with their picks for the best of the best at this year's...

24th June, 1 replies

Rezzed 2013 Hands-on Creative Assembly haven't broken the mold with Total War: Rome 2. However, that...
Share Total War: Rome II with others