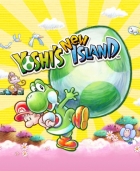 Yoshi's New Island is a side-scrolling platform game developed by Arzest and published by Nintendo for the Nintendo 3DS. It releases in North America on March 14, 2014 and sometime in 2014 for both Japan and Europe. The game stars Yoshi and is the third game in the Yoshi's Island series, as well as the first one on the 3DS.
As it turns out, the parents the stork gave Baby Mario and Baby Luigi to in Yoshi's Island say they aren't their parents. This causes the stork to continually search for them and while doing so, Baby Luigi is kidnapped once again and Baby Mario falls onto Egg Island. With the help of his brothers, who live on Egg Island, Yoshi must rescue Baby Luigi and stop Bowser from turning Egg Island into a resort.
Yoshi's New Island Brainwaves
14th September, 0 replies

Nintendo Europe has announced another Nintendo 3DS promotion whereby customers will be able to claim...

10th January, 0 replies

Nintendo of America announced that Yoshi's New Island will release for the Nintendo 3DS on March 14th...

18th December, 0 replies

More news is trickling out of Nintendo's consistently-impressive Nintendo Direct presentation. This...
Share Yoshi's New Island with others