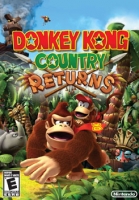 Donkey Kong Country Returns is a side-scrolling platform game developed by Retro Studios and Monster Games (3DS) for the Wii and Nintendo 3DS. It is the series' first traditional home console installment since Donkey Kong Jungle Beat.
The game's story focuses on a group of evil creatures, called Tikis, that arrive on Donkey Kong Island and hypnotize the island's animals to steal Donkey Kong's bananas. This forces him to retrieve the hoard with the help of his friend Diddy Kong.
Donkey Kong Country Returns Brainwaves
15th October, 0 replies

With the popularity and good sales of Donkey Kong Country Returns, which not only saw a Wii release,...

2nd July, 3 replies

This is the last year of the current console generation, but the first half has seen the release of a...

3rd May, 2 replies

It's the shortest month of the year (to spell) and it brings flowers after those April showers. That's...
Share Donkey Kong Country Returns with others
Donkey Kong Country Returns