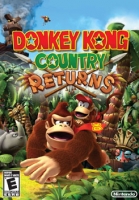 Donkey Kong Country Returns is a side-scrolling platform game developed by Retro Studios and Monster Games (3DS) for the Wii and Nintendo 3DS. It is the series' first traditional home console installment since Donkey Kong Jungle Beat and is the fourth game in the Donkey Kong Country series.
The game's story focuses on a group of evil creatures, called Tikis, that arrive on Donkey Kong Island and hypnotize the island's animals to steal Donkey Kong's bananas. This forces him to retrieve the hoard with the help of his friend Diddy Kong.
Donkey Kong Country Returns Brainwaves
10th June, 0 replies

Retro Studios has hinted that it will be revealing a new game during a Nintendo Direct at E3. Retro...

28th June, 0 replies

As a fan of the original Donkey Kong Country games on the Super Nintendo, I was skeptical about the series...

1st January, 0 replies

The last generation brought with it a wave a re-releases and HD Remakes that collected old favorites...
Share Donkey Kong Country Returns with others
Donkey Kong Country Returns