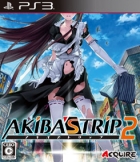 Akiba's Trip: Undead and Undressed is an action-adventure game developed by Acquire for the PlayStation 3, PlayStation Vita, and PlayStation 4. This game is a part of the franchise Akiba's Trip, and the sequel to Akiba's Trip on the PSP. It is set in the famous shopping district of Akihabara, which is located in the Chiyoda ward of Tokyo, Japan.
The game tells the story of a young man named Nanashi who was lured into a trap by the promise of rare character goods and transformed into one of the walking undead. He, however, was spared the worst of his fate by the bloody kiss of a mysterious Synthister hunter named Shizuku. Together with the rest of his companions in an organization unofficially dubbed the "Akiba Freedom Fighters," Nanashi and Shizuku must uncover the truth behind the Synthister plague and save Akiba from being overrun by violent, antisocial energy vampires.
Akiba's Trip: Undead & Undressed Brainwaves
26th March, 1 replies

Yesterday Xseed Games Tweeted the slightly mysterious message "Prepair to get naked this Yster"....

14th June, 0 replies

It can sometimes be tough to demo a game with an open mind, and I found this particularly difficult with...
Share Akiba's Trip: Undead & Undressed with others
Akiba's Trip: Undead & Undressed