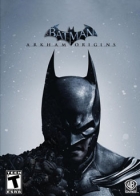 Batman: Arkham Origins is the third action game in the Batman: Arkham series and is developed by Warner Bros. Games Montreal for Microsoft Windows, PlayStation 3, Wii U and Xbox 360. It will be released on the same day as Batman: Arkham Origins Blackgate, a spin-off game, and will include Batman's first encounters with several new enemies, including Deathstroke.
Taking place five years before Batman: Arkham Asylum, it features a younger, less refined Batman, who becomes the target of assassins on Christmas Eve. Black Mask has placed a $50 million bounty on Batman's head, drawing the attention of eight assassins, including the likes of Bane, Deadshot, Lady Shiva and more.
Batman: Arkham Origins Brainwaves
4th June, 0 replies

It seems no blockbuster game is safe these days. Batman: Arkham Knight, the fourth mainline entry in...

21st May, 1 replies

We finally have a (short) gameplay video showing off Batman: Arkham Knight. The two minute video shows...

26th March, 1 replies

After writing about games on the internet for a few years, you find yourself going through different...
Share Batman: Arkham Origins with others