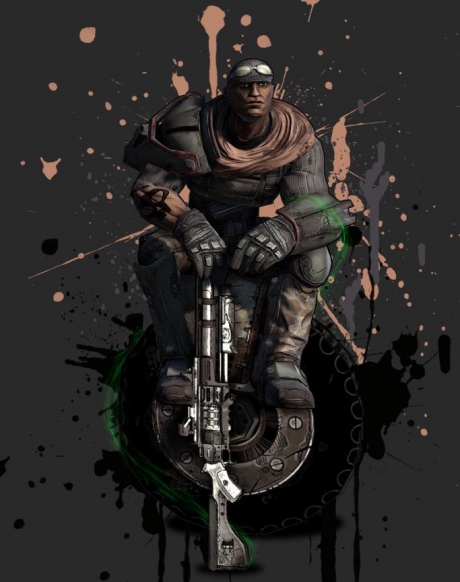 Roland is Borderlands' 'Soldier' class, and is highly proficient in all forms of armed combat.


Background:



He is a former member of the Crimson Lance, the highly-trained military arm of the Atlas Corporation. The Atlas Corporation being a weapons manufacturer which supplies arms to the Pandoran market.

Telltale signs of Roland's former association with the Crimson Lance are his Lance armour pieces and his Scorpio Turret, which actsas his 'Action Skill' throughout the game.


Gameplay:

As an infatryman, Roland has both strong offensive combat capabilities and has a skillset which allows him to be a highly supportive teammate. His three skill trees are: Infantry, which generally allows him to boost his damage output; Support, which mainly allows him to increase his shield regeneration and re-supply teammates; and Medic, which increases health regeneration and damage resistance. The skill set available to him makes Roland the most effective support class, thanks to his ability to heal and re-supply allies in various ways.

All three skill trees also feature skills which allow him to improve the effectiveness of his Scorpio Turret, which acts as Roland's 'Action Skill'. The Scorpio Turret is a deployable sentry gun, which lasts for 20 seconds, shoots at enemies, and provides shields for cover.

It's effectiveness can be increased in different ways, depending on which skill tree the player decides to focus on. A focus on the Infantry path will increase the turret's damage output, reduce its cooldown time, and, ultimately, allow it to fire guided missiles. A focus on the Medic path will add health regeneration effects to the turret for nearby allies, and result in a chance to instantly revive nearby crippled teammates when deployed. Finally, a focus on the Support path will reduce the Scorpio Turret's cooldown, increase its burst fire and allow it to eject resupply packs to replenish the ammunition and grenade stocks of all teammates.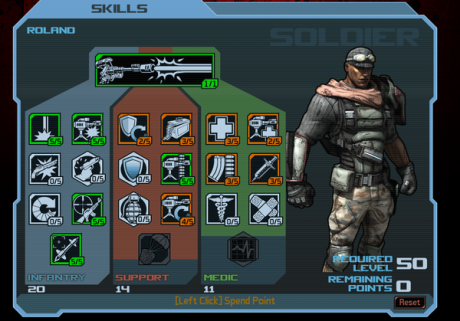 Trivia:

- Early concept art of Roland depicted him as a caucasian male with dark, graying hair.

- Roland is also the name of the Gunslinger in The Dark Tower, a popular series of books written by Stephen King.

- Roland was supposedly a member of the Crimson Lance's Infantry, but his Scorpio Turret and Crimson Lance armour suggest that he may have actually been a Lance Engineer.