Borderlands is set in the distant future, on the planet Pandora. Colonization ships, sponsored by the Dahl Corporation (one of several diversified mega-corporations that appear to control and govern entire planets), are lured to the planet by its vast mineral resources and the promise of a better life. Settlements are built up and mining operations commenced.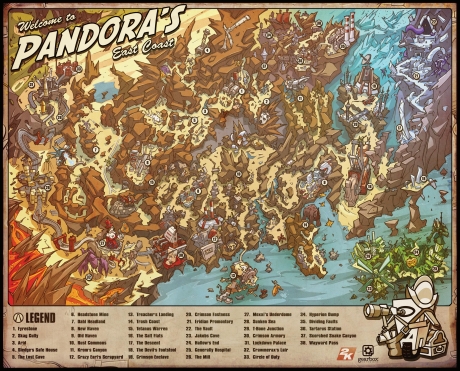 Map of Pandora.
The presence of similar alien ruins to those found in an alien vault on the nearby planet of Prometheus spur the Dahl Corporation to search for a possible vault on Pandora. The search is headed by a respected xeno-archeologist, Tannis. However, the search ultimately turns out to be fruitless, and the massive industrial mining operations soon deplete the bulk of the mineral deposits that exist on the planet.

The companies mining the planet decide to up-sticks and leave, having harvested the bulk of the Planet's valuable resources. In the process of leaving they leave behind many of the settlers who are too poor to buy their way off the planet, and release those who were being held in prison labor camps. The population is thus left to scavenge for a living in isolated settlements.

Soon after, the planet's slow orbit finally brings about a transition in the seasons, unleashing hordes of dangerous alien wildlife coming out of hibernation.

Despite the lack of evidence of its existence, legends persist of "The Vault", which is supposedly carved into the side of a mountain. Rumoured to be a treasure trove of alien artifacts and technology, it's also said that those who do discover it are killed by a protective force, leaving few clues as to its actual location. The only evidence of their discovery is a scattered radio transmission, proclaiming the Vault's majesty.

Borderlands commences some time after the Dahl Corporation's abandonment of the planet, and focuses on several fortune seekers (Mordecai, Roland, Lilith, and Brick), who comprise the game's playable cast. They're all drawn to the planet by rumours of the mythical Alien vault and the wealth it contains.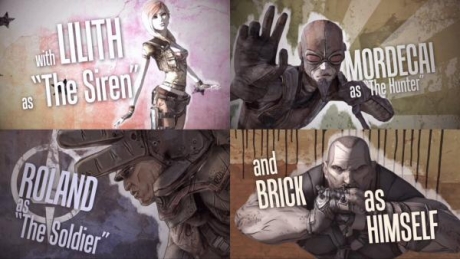 The cast of Borderlands.