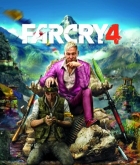 Far Cry 4 is a first-person shooter being developed and due to be released by Ubisoft for Microsoft Windows, PlayStation 4, Xbox One, PlayStation 3 and Xbox 360. The fourth mainline entry in the Far Cry series, it is the sequel to the 2012 hit, Far Cry 3, and is set to be released on November 18, 2014 in North America and Europe.
Hidden in the majestic Himalayas lies Kyrat, a country steeped in tradition and violence. You are Ajay Ghale, a native of the country, travelling to Kyrat to fulfil your mother's dying wish and scatter her ashes. Upon arrival, however, Ajay is caught up in a civil war against the evil and ruthless dictator Pagan Min.
Far Cry 4 Brainwaves
3 days ago, 0 replies

Far Cry 4 will be getting a Season Pass which will include a competitive multiplayer mode and additional...

20th May, 0 replies

Following on from the announcement of Far Cry 4 just a few days ago, story details for the title were...

16th May, 0 replies

Ubisoft have announced that Tom Clancy's The Division will be released in 2015 for PC, PlayStation 4,...
Share Far Cry 4 with others