As the player, it is your job to help the main character escape the prison by raising his stats, allowing him to complete his jobs successfully, letting him craft certain materials through items he has found, maintaining a good profile among other inmates and guards, and ultimately finding an escape route. There are two different prisons to hone your puzzle-solving and strategizing skills, but only one prison is available in the beginning.
Daily Schedule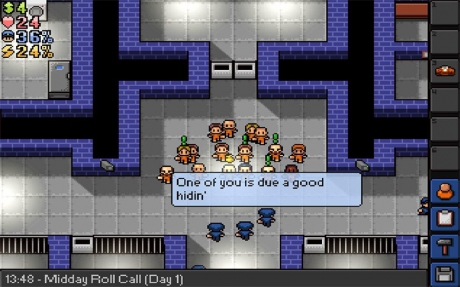 Time constantly goes by in the world of The Escapists. There is a specific schedule from morning to night that the main character is required to follow. There is time for everything the character must do, such as roll call, meals, jobs, and free time. To know when any of these events will happen, look at the bottom of the screen.
Roll call happens throughout the day when all the inmates must stand near the front entrance. This is where your character can talk to other inmates and either retrieve favors or buy certain items from them. The main character must attend breakfast, lunch, or dinner each day. The food can replenish health and fatigue.
During work, the main character can earn money if they complete their job quota in that time period. Finally is free time, which gives the main character a chance to explore the prison and perform activities that can enhance their stats.
Escaping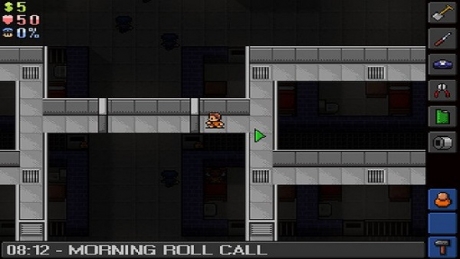 Your main objective is to escape. This is where you need to use your free period wisely. You will have a chance to explore the prison area and plan out your escape route. Once you have, though, you will have to obtain and craft the necessary items, raise the necessary stats, and make your escape attempts. The time it takes to escape can range from a few days to a few weeks or more within the game.