These are the four main stats: strength, speed, intelligence, and opinion. Each of these stats need to constantly be raised and practiced upon, because they decrease over time.
Strength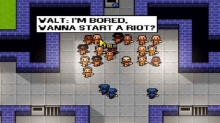 You need strength in order increase your health. You may also need strength to perform certain tasks to help you progress in the game. In order to increase your strength, however, you must lift weights in the gym during the free period or workout time.
Speed
Speed is needed to help your character increase their attack while they are fighting other inmates and prison guards. Speed allows your character to carry out fights more quickly. You can increase your character's speed during free period or workout time at the gym by going on the treadmill.
Intelligence
This is a stat that determines what kind of crafts the main character can create. The higher the intelligence, the more complex the craft. The main character can increase their intelligence by either going to the library in the first available prison or the computer lab in the next available prison during their free period.
Opinion
Only the other inmates and prison guards have an opinion bar, and their opinion is of you. The lower their opinion bar is, the more likely they are going to attack you out of nowhere. You can raise the opinion bar of prison guards and inmates by having conversations with them. Their opinion bar will go up by one per quote they say to you.
Give items and money to other inmates and their opinion of you will raise, especially if the item you are giving them are labeled "contraband." You can also raise opinion bars of the inmates by performing requested tasks and favors which can range from retrieving and delivering items to helping them beat up other inmates and prison guards. Raising the opinions of certain inmates would allow you to buy certain items from them that you can use for crafting.
Other Stats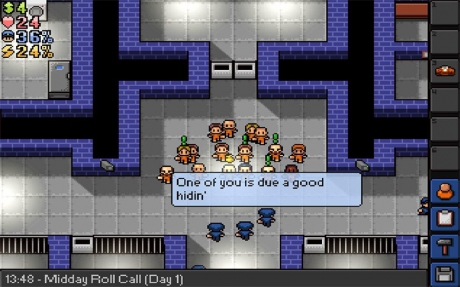 At the top left corner of the screen, you will notice other stats there as well. The first is the amount of money you have, followed by your health, guard heat, and fatigue.
Money
You can earn money by completing job quotas and completing favors requested by prisoners. Money can be spent on items being sold by other prisoners.
Health
Your health changes based on the fights you get in and your strength. If your health reaches zero, you will automatically be sent to the infirmary to replenish your health. Your health automatically replenishes over time. Eating food and working out are other ways to replenish your health.
Guard Heat
This stat is represented in percentages. The higher the percentage, the heavier the frequency of the guards will be. This percentage is raised when you are caught stealing from other inmates while they are knocked out, picking up knocked out inmates, stealing from other inmates' rooms, carrying around weapons and other suspicious objects, having weapons in your room when the guards are inspecting your room, missing roll call or any other activities that are going on throughout the day, and getting caught while attempting to escape. Guard heat decreases on its own over time so long as you do not keep causing it to go up again.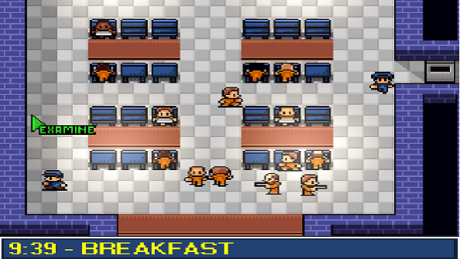 Fatigue
This stat is also represented by a percentage. The higher the percentage, the higher your fatigue. Fatigue increases when you work at your job, workout at the gym, and fight other inmates and prison guards. Once your fatigue gets to 100%, you will lose consciousness and automatically be sent to the infirmary to rest. Fatigue decreases over time. You can also decrease it by eating and sleeping.