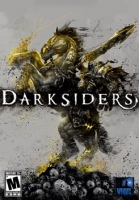 Darksiders an action-adventure hack and slash video game developed by Vigil Games and published for the Xbox 360, PlayStation 3, and Microsoft Windows by THQ. It is the first game in the Darksiders series, followed by Darksiders II, and follows War, one of the Four Horsemen of the Apocalypse.
A war has raged between the Kingdoms of Heaven and Hell since the dawn of creation, with neither side gaining the advantage over the other. At the height of conflict, a mediator group called he Charred Council arose declaring themselves the overseers of order and balance to preserve the fabric of the universe. Under their control were the Four Horsemen, a brotherhood of War, Death, Strife, and Fury that punished all who did not obey. Eventually, a truce was forged between Heaven and Hell and the pact bound by the creation of the Seven Seals, to be broken at the appointed time when the Four Horsemen would ride across Earth and punish the guilty. Unfortunately, one of the Four Horsemen, War, was tricked by the legions of Hell and blamed for destroying that balance. Knowing the accusations are false, War rides out to find who tricked him and prove his innocence.
Darksiders Brainwaves
19th September, 0 replies

THQ spent $50 million on the development of Darksiders II. When THQ sank, Nordic Games bought several...
Share Darksiders with others