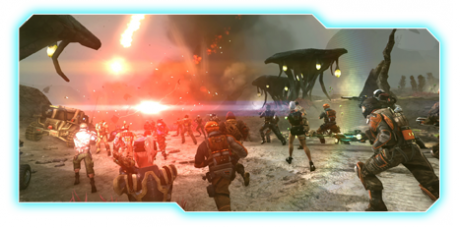 Wreckage from the Votan ships that exploded in space periodically falls to Earth. These meteor-like fragments usually contain rare and valuable alien technology.
Occasionally clusters of arktech will fall to the ground, attracting small numbers of local denizens as well as nearby Ark Hunters. These small arkfalls can be tackled by a brave Ark Hunter or two.
However, major arkfalls are impossible to ignore as they blacken the skies, turning the surroundings into a violent torrent of debris. As an Ark Hunter's EGO sounds the alert, a massive section of arkfall impacts the land. Filled with arktech wonders and/or rare resources, these large arkfalls attract a horde of beasts, who are often in turn dwarfed by a massive guardian of the species, intent on claiming the arkfall for themselves. Only an army of powerful Ark Hunters can hope to stand against the monsters of a major arkfall and live to claim the glory and rare rewards found within.